California Buckeye Leafing Out
California Buckeye. Aesculus californica
HIPPOCASTANACEAE. Buckeye or Horse Chestnut Family.

California Buckeye trees are leafing out. At lower elevations on the San Francisco Peninsula it started about a week ago and most are already almost fully leafed out. They're the first native deciduous trees to leaf out, always a pleasing sight for me. One of my favorite colors is the shade of green of the freshest young buckeye leaves. I suppose some would call it chartreuse -- "a strong to brilliant greenish yellow to moderate or strong yellow green" says my dictionary. Whatever you want to call it, I really like it and look for it every year.

A photograph of later-in-the-season California buckeye foliage from Mission Creek Web site: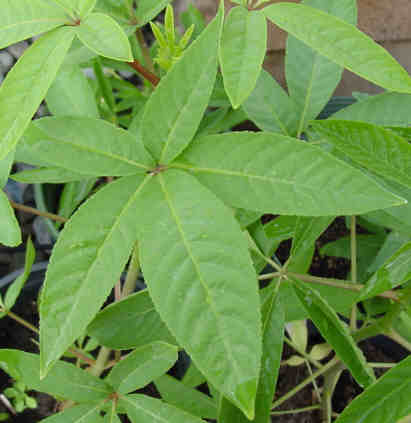 I've come to appreciate California buckeye more and more over the years. I remember hearing it spoken of disparagingly decades ago because its nectar and pollen are toxic to honeybees. Many gardeners don't care for the fact that it is the first deciduous tree to drop its leaves, before the summer is over. Labadie says the foliage is: "Good for about two months." Many of the leaves turn yellow and brown, at times as early as June, and the casual observer might conclude it's dying!

"Nothing is ever perfect" says the Little Prince. I've come to appreciate the many virtues of the California Buckeye. I love its muscular structure and the single heavy fruits that develop at the branch tips in the fall. I've found it grows quickly and easily from seed planted en situ -- where the tree is to stand. Its huge glossy brown seeds, when fresh and handsome, never fail to sprout for me. It quickly develops a stout tap-root which coils in containers -- the trauma of such cruel confinement only sets them back. Better to let it root straight downward from the beginning, where the tree is to stand!

I fondly recall watching a beautiful Western Gray Squirrel (Sciurus griseus) eating buckeye flower buds at San Antonio County Park in Los Altos.

In May the California buckeye tree becomes a spectacular candelabra of flowers fragrant and white that draw many butterflies. Delightful clouds of Spring Azure butterflies (Celastrina ladon echo, aka Echo Blue) attended a specimen on a San Francisco street -- buckeye flower buds and flowers are its caterpillar cuisine! It's the best butterfly nectar plant, being so large and flowering in a season of butterfly abundance -- I've seen up to seven species simultaneously nectaring on one tree! Hummingbirds also visit buckeye flowers.

Examine native plants to find interesting insects! I've seen only one Timema -- an atypical walking stick with a stout body and short legs -- it was on California buckeye foliage. Late spring is a good time to look for insects on buckeye foliage and flowers.

A bird foraging study confirms that birds find the California buckeye a happy hunting ground. In late spring in an oak woodland on the Tejon Ranch in Kern County Black-headed Grosbeak used "California buckeye ... more frequently than any other foraging substrate" -- for 31% of observed foraging time. Others spending a significant amount of time seeking insects in California buckeye include Northern Oriole (11.4%), Plain Titmouse (7.3%), Nuttall's Woodpecker (5.3%) and Acorn Woodpecker (4.5%).

Though toxic when green, as California buckeye leaves turn yellow and fall they become high protein forage for deer. I once saw a yellow banana slug feeding on an old rotting seed in the leaf litter.

Print Resources:

The American Heritage Dictionary of the English Language
The Jepson Manual, Higher Plants of California
Native Plants for Use in the California Landscape, Emile L. Labadie
California Butterflies, John S. Garth and J.W. Tilden
California Insects, Jerry A. Powell and Charles L. Hogue
Proceedings of the Symposium on Multiple Use Management of California's Hardwood Resources, November 12-14, 1986, San Luis Obispo, California, Pacific Southwest Forest and Range Experiment Station, General Technical Report PSW-100, pages 169-170.